Yarina Ecolodge consists of 22 comfortable and spacious individual cabins, that blend harmoniously with the ecosystem. Where you will enjoy a refreshing rest at night, lulled by the symphony of the forest, and wake up in the morning with the singing of the birds.

Our cozy rustic huts

We have single, double, triple, and quadruple huts, perfect for solo travelers, couples, honeymooners, friends, and family. Our cabins are made with typical materials from the region, such as bamboo and toquilla straw. They are all equipped with a private bathroom with hot-water shower, hammocks, closet, nightstand, mosquito net, and lamp.

Lounges

Perfect for sharing unforgettable momentsAmong the facilities of Yarina EcoLodge's restaurant are cozy and spacious lounges for leisure and recreation. Large areas with fresh outdoor air flowing through them, with exceptional views. Perfect for gathering, reading a book or savoring a glass of wine while you delight in watching a golden sunset or an impressive rainstorm. These lounges are equipped with hammocks and sofas.

The miracle of nature in the Ecuadorian Amazon

Enjoy a once-in-a-lifetime trip to the most biodiverse site on the planet and explore the pristine lands of Yarina Ecological Reserve! A wildlife-filled universe, where you'll have the opportunity to explore hundreds of flora and fauna species and learn more about the magical and ancient knowledge of the native Kichwa culture.

A tropical humid forest spanning over 400 hectares, located a one-hour canoe ride from El Coca city, in the zone of influence of Yasuní National Park, right in the heart of the Amazon Rainforest.

Feel the joy, peace and harmony of Mother NatureEvery little corner in the heart of the Ecuadorian Amazon is mesmerizing. Spectacular green landscapes, birds singing and a stunning golden twilight will fascinate you during the daytime, and a beautiful starry sky and nocturnal wildlife symphony will delight your senses at night, making you feel as if you were in another world.Here only the present exists, and it is enjoyed to the fullest!

Excursions and unique activities
Adventures and new discoveriesA lover of nature and wildlife? At Yarina EcoLodge you will find more than five different species of monkeys, over 380 species of birds, and hundreds of medicinal plants. You will get to know the "Ceibo," the great tree of the jungle, as well as explore cacao plantations.Our staff will guide you on a hiking tour along the trails and marshlands of the forest. You will go on canoe trips across rivers and lagoons and will explore beautiful bright-colored species of birds. Our staff will also guide you on a visit to a Kichwa family, and you will have the opportunity to meet the Shaman, bearer of native legacy and wisdom.

SERVICES
Electricity
At Yarina EcoLodge you will have power 24/7 (110v) as we are equipped with our very own power generator.
Water
Water service is guaranteed. You will have water 24/7 in your bathroom. Our water is collected from a 20-meter deep (roughly 65 ft deep) well.
Room service
Our staff will be in charge of cleaning your room to ensure that everything is neat and tidy, so you can enjoy your vacation with the comfort you need.
Fan
All cabins are equipped with a large sized fan so that you can be comfortable in your room.
Mosquito nets
All huts are equipped with mosquito nets, placed over the beds to prevent mosquito bites.
Wi-fi
The restaurant, lounge and accommodation rooms have excellent wi-fi connection, available at an additional cost.
Rubber boots
We offer rubber boots in your size, so you can take part in hikes and other activities.
Water and coffee station
Our restaurant is equipped with a drinking station, offering complimentary water, coffee and tea anytime.
PROGRAM
3 DAYS / 2 NIGHTS
FROM $498 P.P
BOOK NOW
DAY 1
At noon aprox, the motor boat canoe will departure from Coca city and navigate by the Napo river for 1 hour aprox, before arrive at Yarina Eco Lodge. Time to lunch.

After lunch we will visit the Socali path, characterized for a variety of different jungle lands. This path is used like an ... aand fauna that is possible to find in different types of forest. Return to the lodge to have the dinner and resting time.
DAY 2
After breakfast we will visit the Capibara path. An adventure trail with many swamps. In this trail you will see some palm trees that is possible to see in other places. Return to the lodge to take the lunch.

Late in the afternoon without rubber boots and wearing comfortable dresses (shorts is recommended). The local guides are going to teach us how to use the blowpipe. After this activity, we will take a small canoe to enjoy with the piranha fishing. Return to the lodge to take the dinner.

Af night, you will paddle in the lagoon SAPOCOCHA, to look for caimans and nocturnal life.
DAY 3
Departure from the Yarina Lodge in the morning, ​ After breakfast, departure back to Coca.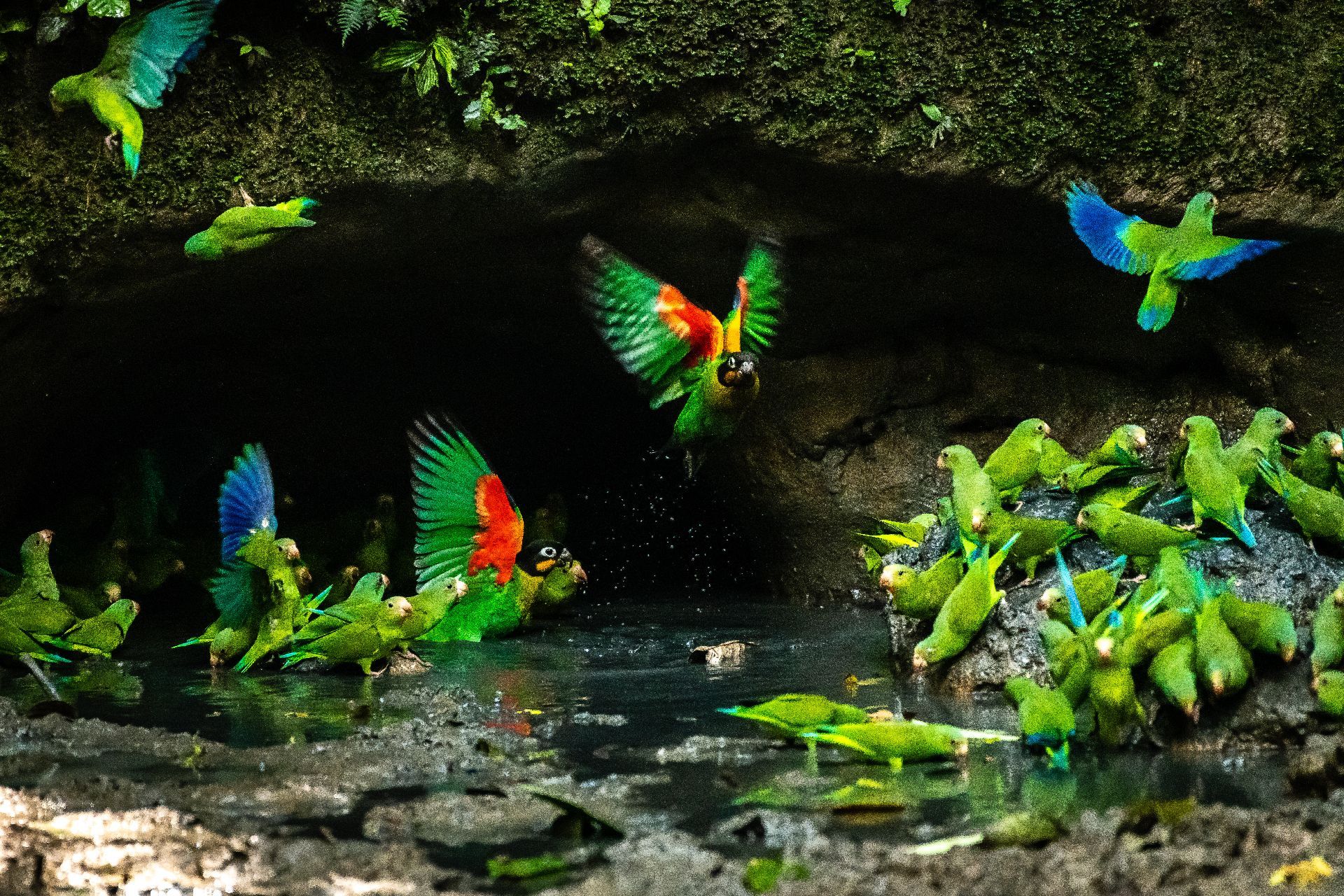 PROGRAM
4 DAYS / 3 NIGHTS
FROM $616 P.P
BOOK NOW