NAPO WILDLIFE CENTER
Located in the heart of the Yasuní National Park, a UNESCO a Biosphere Reserve, the Napo Wildlife Center provides visitors with great opportunities to explore the treasures hidden in the sacred lands of the Amazon Rainforest in Ecuador. One of the particularities of this hotel is that it is 100% managed by the Kichwa Añangu community, making it the greatest example of a community-based project that benefits the local community and preserves the diverse flora and fauna of the area. With 12 ample and comfortable standard cabins and 8 suites, the Napo Wildlife Center complex offers the most comfortable accommodations of the Amazon Rainforest in Ecuador and unique opportunities explore the treasures hidden in the forests and creeks of the jungle.

LIFE IS COMFORTABLE AT AMAZON JUNGLE:
Located in a privileged area of the Ecuadorian Amazon, the Napo Wildlife Center is one of the largest eco-lodges in the Amazon Rainforest in Ecuador. The typical local open-air architecture and modern style of the hotel make it the ideal place for an unforgettable jungle experience with luxurious amenities. The Napo Wildlife Center features 20 red thatched-roof huts and a main hall with a 360° panoramic view of Lake Anangu and the surrounding forest.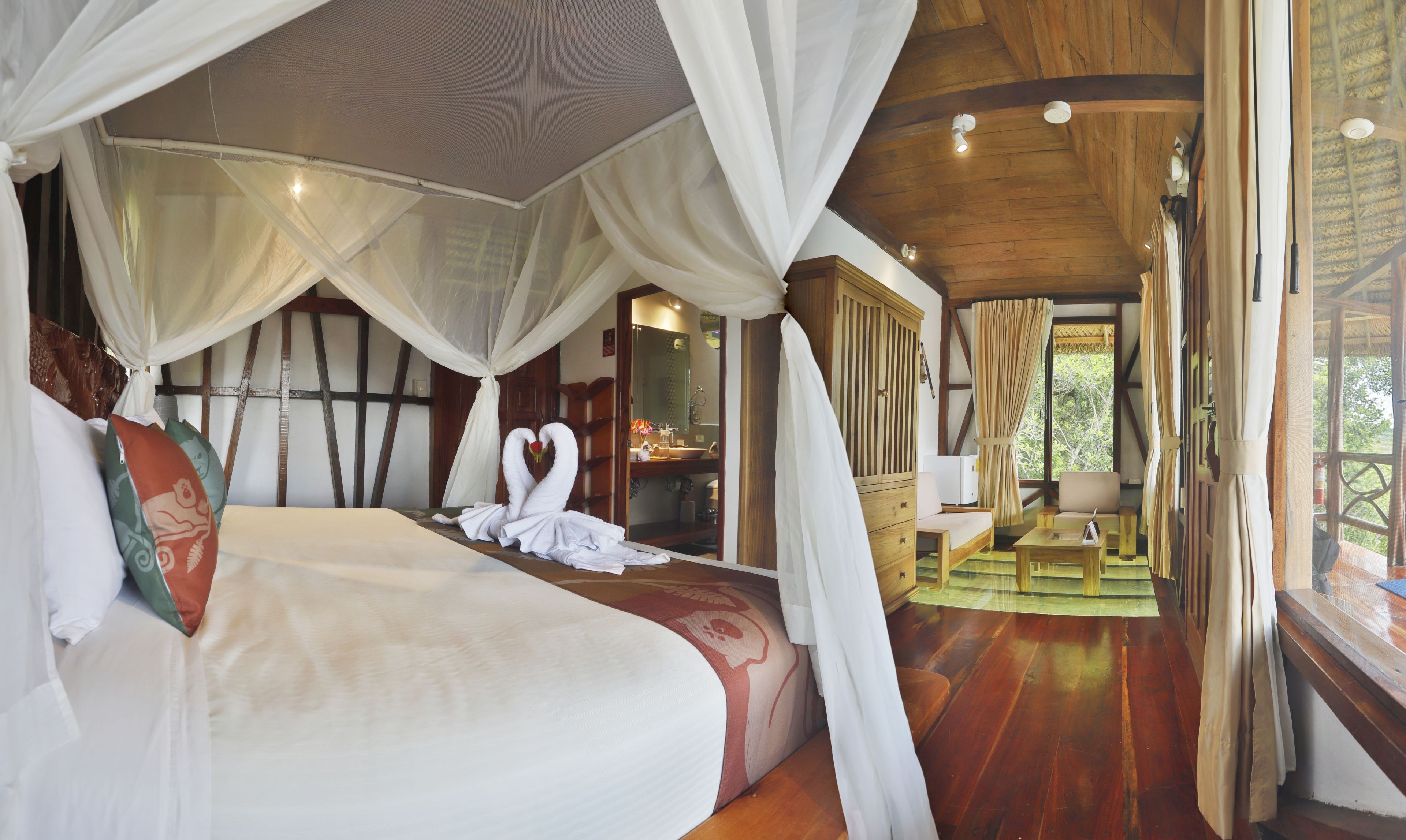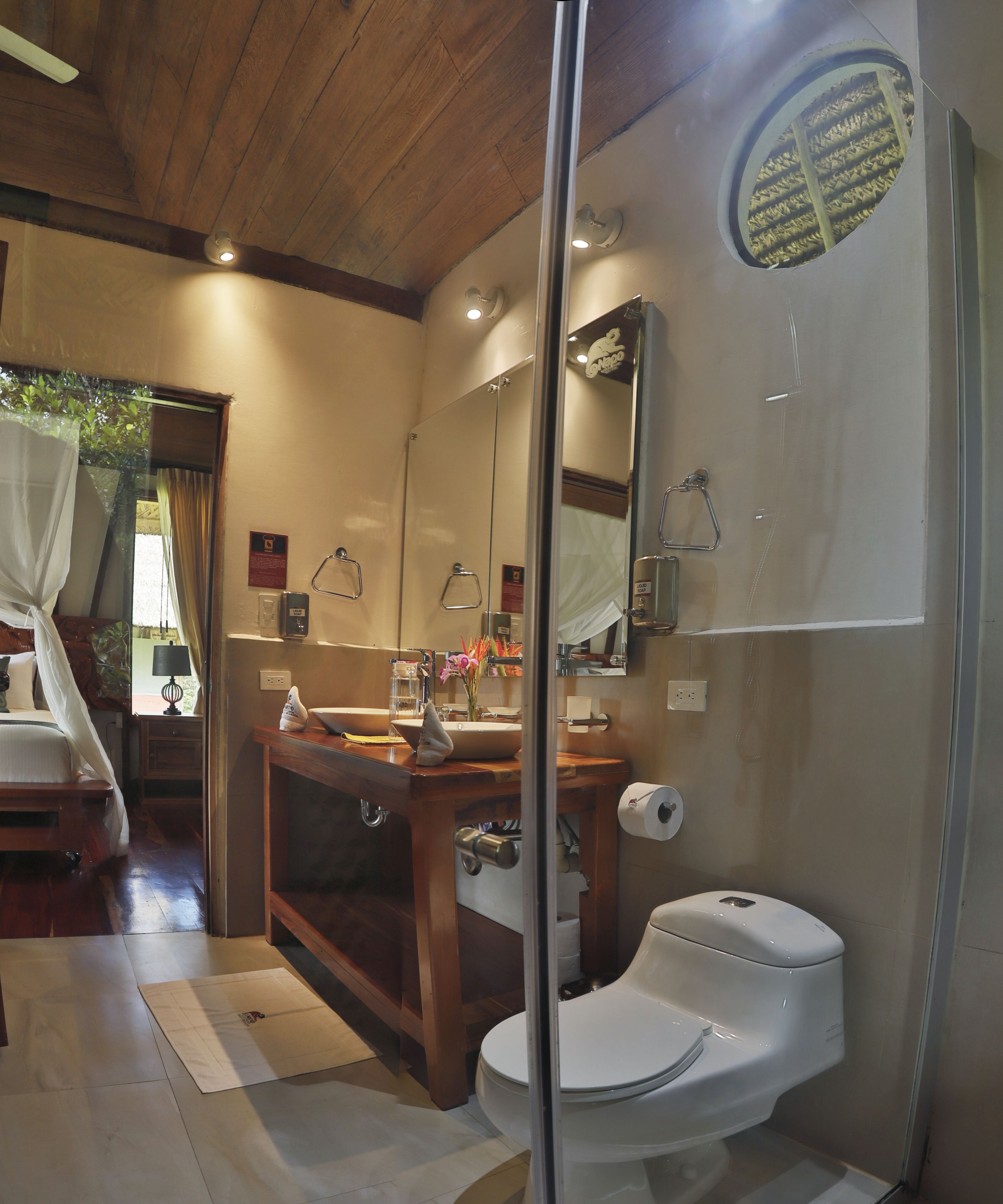 ACCOMMODATION
With 12 spacious and comfortable standard cabins and 8 suites, Napo Wildlife Center has capacity for 50 people, distributed in double and triple suites. Our cabins
fully equipped with electricity, safe, ventilation, hot water, private bathroom, a balcony surrounded by beautiful natural gardens, and much more.
VIEW GALLERY
PROGRAMS
This is a sample itinerary, subject to change due to weather conditions, security, and the particular interests of guests and groups. Changes and additions are made to maximize wildlife and landscape enjoyment, cultural interaction with local people, and as much time as possible in the richest rainforest in Ecuador: Yasuní National Park. Please consult us for tailor-made itineraries for a unique wildlife experience at the best Lodge in the Amazon: Napo Wildlife Center.
PREMIUN PROGRAM
4 DAYS / 3 NIGHTS
Our 4 days – 3 nights premium tour includes canoe trips along lakes and rivers, forest excursions, and birding tours. Experience an incredible adventure paddling a small canoe on a tranquil stream, or hike on one of the 16 forest trails. Get a close-up view of the spectacular wildlife living in Yasuní National Park, a sacred land known as one of the most diverse regions on the planet.
BOOK NOW
EXTENDED STAY PROGRAM
5 DAYS / 4 NIGHTS
Our 5 day-4 night tour allows you to have an extended stay in this tropical paradise. With more time to explore, you will be able to experience a little more of the natural wonder that is Yasuni National Park. Whether you choose to spend another day hiking a forest trail or paddling along one of the black water streams to discover the incredible wildlife who live here, it promises to be time well spent in this sacred land.
BOOK NOW
CULTURAL & ADVENTURE PROGRAM
5 DAYS / 4 NIGHTS
Come and experience the Ecuadorian Amazon Rainforest if you are looking for the adventure of your lifetime! Let the exotic air of Yasuni and Napo Wildlife Center envelop you. Learn about the ancestral customs and native knowledge of the Kichwa Añangu community by being immersed in their rich culture. Be the main protagonist in your untold story of wonder amidst this unique wilderness.
BOOK NOW
GO BIRDING PROGRAM
5 DAYS / 4 NIGHTS
Do you consider yourself an avid birder? If so, our thrilling 5 day- 4 night birding tour will have you positively chirping with excitement. More than a whopping 600 unique species of birds call this part of the Amazon home. Led by a local guide and professional naturalist, join like-minded bird enthusiasts on the adventure of a lifetime.
BOOK NOW
Photograpy PROGRAM
3 or 4 NIGHTS
Our exclusive photo tours are led by experienced and award-winning professional photographers and biologists. This package is designed for both beginners and well-seasoned explorers. We aim to put you in the right place at the perfect moment to capture stunning photographs. You will learn essential techniques and get transferrable tips from the pros, which will help you grow as a photographer in your own right. Be an honored guest in our community, enjoy the unique and vibrant local culture, and take part in a life-changing experience in one of the most stunning and bio-diverse spots in the world. There's no telling which incredible creatures will become the subject of your lens here in the Amazon.
IMPORTANT: Make a private photography guide reservation for this kind of tour.
SAMPLE PROGRAM
Departure from Quito in the morning and travel to the Añangu community. We take out the cameras when we reach the black water "Añangu" stream. After brief instructions and advice, we start taking photos on our the way to the majestic Napo Wildlife Center.

Arrival and check-in at the lodge. Photography from the NWC tower at sunset, followed by a delicious dinner. We will then talk about all of the possible activities to do during the next few days at the lodge.

You can choose from the following activities for a full combination of experiences during sunrises, mornings, afternoons, sunsets, and nights. Many can be combined and repeated depending on the weather and the interests of the group. There are plenty of options to choose from whether you are staying for a 3, 4, or 5 night tour.
DAYLIGHT ACTIVITIES
SUNRISE ACTIVITIES
• Sunrise in the hotel tower (1 to 3 hours)
• Dawn in the NWC canopy tower (30 min to 1 hour duration)
• Parrot clay licks and Kuri Muyu Cultural Center (all morning and lunch)

MORNING AND AFTERNOON ACTIVITIES
• Hike a trail leading to the tower (2 to 4 hours)
• Blackwater creek and lake for otters, caimans, monkeys and birds (2 to 4 hours)
• Monkeys and birds arround the lodge
• Macro photography on the trail behind the lodge
NOCTURNAL ACTIVITIES AND TALKS
NIGHT ACTIVITIES
• Night walks on the lodge trail to photograph amphibians, reptiles, and insects
• Night walks on the path to the tower to photograph amphibians, reptiles, and insects
• Observation of alligators and frogs around the lake
• Talks (detailed below)

TALKS ABOUT
• How do I use my camera?
• Essential tips to achieve a good photo in the jungle
• Photographic composition
• Storytelling
• The correct use of flash
• Post-processing and cataloging your images
• Conservation Photography
• Photo criticism workshop and portfolio review
BOOK NOW
RATES 2022
All rates are per person.
| ACCOMMODATION | DOUBLE StandarD | SINGLE STANDARD | DOUBLE SUITE | SINGLE SUITE |
| --- | --- | --- | --- | --- |
| 4 DAYS - 3 NIGHTS | $1425 | $2260 | $1685 | $2684 |
| 5 DAYS - 4 NIGHTS | $1746 | $2745 | $2087 | $3249 |
bOOK NOW
INCLUDED
Canoe transportation from Coca to the Lodge
Accommodation
All meals according to program
Entrance Fee to the Visit the Parrot Clay Licks
Bilingual English/Spanish speaking Naturalist Guide.
Guided Excursions.


Entrance to the Yasuní National Park
NOT INCLUDED
Airfare Quito–Coca–Quito
Check-in and transfer in & out in the city of Coca.
Alcoholic Drinks
tips and personal expenses
Internet, laundry and any other unspecified requirements.
REQUEST BOOKING FORM
CONTACT US
ECUADOR GREEN TRAVEL TOUR OPERATOR
Address in Quito: Ulpiano Paez N21-74 y Robles, building "Valladolid", Office No. 104
Office Tel: (593-2) 5016438
Mobile: (593-9) 99256096
E-mail: This email address is being protected from spambots. You need JavaScript enabled to view it.
skype: ecuador.green.travel
msn: This email address is being protected from spambots. You need JavaScript enabled to view it.